More and more people are also buying cut flowers for their own pleasure and as a small everyday treat. Especially with the darkness of autumn and winter, homes need colour, joy and a reminder of the warm summer. Entice your customers to take the colourfulness of your flowers home with them!
Flower coolers designed for cut flowers keep the flowers at their optimum temperature and prolong their flowering period. Cut flowers are also very sensitive to temperature and air pollution. The flower coolers are designed with the delicacy of the products in mind and the equipment allows the flowers to stay in full selling condition for longer.
In this text we present our new product and our pride and joy, the SMK Flower flower refrigerator. Flower is the flower cabinet for the best florists!
Uusi SMK Flower vaativampaankin makuun
Valikoimaamme on saapunut uutuutena näyttävä, kokolasinen kukkakylmäkaappi SMK Flower, joka on lukuisten varusteiden ja viimeistelyvaihtoehtojen ansiosta räätälöitävissä jokaisen liikkeen yksilöllisten tarpeiden mukaan. SMK Flower on edustuksellinen kukkakaluste, jossa on panostettu erityisesti visuaalisuuteen ja kukkien myyvään esillepanoon. Kalusteen rakennetta on mietitty kukkakauppojen tarpeista lähtöisin ja sen sirot yksityiskohdat korostavat kukkamyyntiä.
Olemme tällä hetkellä tämän tuotteen ainut maahantuoja Suomessa! Voimme siis puhua aidosti uniikista tuotteesta Suomen markkinoilla. SMK Flower on myös valmistajansa RAPA:n mukaan heidän valikoimansa vetonaula ja kruununjalokivi. Lisäksi kalusteessa on hinta kohdillaan laadusta tinkimättä. Esittelemme alla SMK Flowerin ominaisuuksia tarkemmin.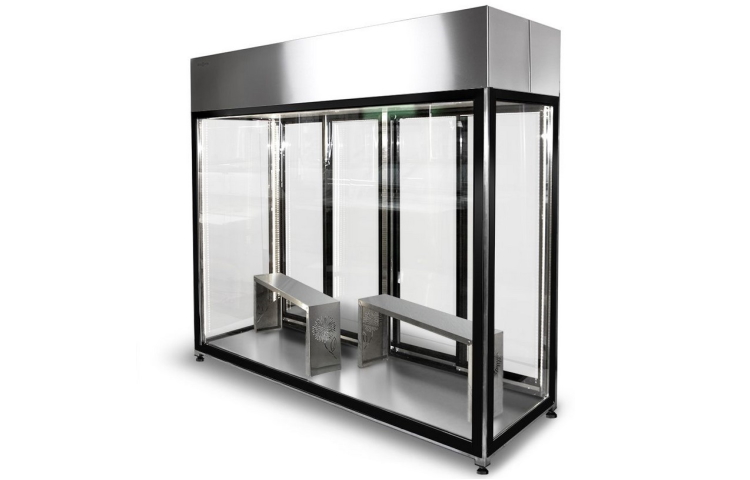 SMK in Flower has a striking full-glass surface that makes the flowers the centre of attention from every angle!
The best of SMK Flower
SMK Flower is a unique floral cooler with sophisticated features and aesthetics that make it not only a high-quality piece of equipment, but also the perfect setting for refined floral compositions. Our salespeople listed the best features of Flower from a professional's point of view:
1. Reliable and aesthetic design
Here's a nice piece of furniture! SMK Flower's modern and minimalist design ensures that all the customer's attention is focused on the flowers. The most important element of the Flower is undoubtedly the tempered panoramic glass, which gives the flowers perfect visibility from all sides. The device is visually beautiful in itself and provides the best environment for aesthetic and delicate displays. The refrigerator is decorated only with a delicate floral pattern on the top panel, which is also repeated in the floral motifs inside the cabinet. Elegant decorations and small details highlight your professionalism and the products on display, while giving your furniture a unique look. Plus, it has high-quality lighting: efficient, energy-saving LED lights bring out the colour of your flowers in a vibrant way. A sliding door on one side makes it easy to fill the cabinet and take out flowers. Despite its large size, the cabinet is easy to place where you want thanks to the wheels or adjustable feet.
The manufacturer has tested the equipment both in the laboratory and in practice by carrying out a durability test on the flowers. The experiment showed that flowers stored in a refrigerator can stay in good condition for up to 18 days!
2. Eco-friendly coolness
SMK Flower uses gravity cooling. It allows you to maintain the right humidity, which is very important for flowers. The furniture is equipped with an automatic condensation evaporation system that does not require draining. You can easily select the right temperature with the electronic temperature control. Closed doors reduce energy waste, ensure an even temperature inside the unit and maintain optimal conditions for flower storage. The cabinet is cooled with an ecological R290 refrigerant, so by choosing SMK Flower you are choosing an environmentally friendly solution.
If you wish, you can equip the cabinet with an additional door lock that prevents unauthorised persons from opening the unit, thus protecting the setups inside from adverse temperature fluctuations or touching the setups in the display window.
3. Customizable according to your needs
It is extremely easy to customise the device to your needs. The manufacturer has wanted to offer you as many options as possible to customise your flower cabinet and you can choose from elements that can be combined in different configurations. For example, choose an interior mirror instead of a panoramic or side glass to create an opulent effect, or swap the panoramic glass for another sliding door to create a double-sided unit for a spectacular room divider or centre floor unit! The cabinet is also suitable for use with the R452a remote system as an optional extra. The furniture is available in six different lengths and you can choose from a range of accessories! The standard equipment includes one 20 cm high and one 40 cm high stool and 3 adjustable shelves.
Comprehensive equipment allows for variation
With a wide range of accessories and size options, you can build the Flower refrigerator exactly the way you want it!
Standard equipment
black unit and fittings
sliding doors
adjustable shelves 3 levels
1 piece 40cm and 1 piece 20cm "flower vase"
LED lighting
wheels
electronic thermostat
full glass
automatic defrost
Accessories
branding
roster furniture version, incl. all parts
adjustable feet
hole shelves for flower buckets
mirrors for side and rear walls
the rear wall can be replaced by a sliding door
lock on the door
additional shelf
"design shelves" with wire rope fastenings
20cm, 40cm or 60cm "flowerpot"
pollen filter for machinery
R452a pressure relief valve for remote system
USB temperature recorder
The unit is available with perforated shelves for flower buckets. This version is especially suitable for supermarkets!

Need help choosing?
Ask our knowledgeable staff for more information or submit a contact request.
We will help you find a suitable solution.