INSTALLATION, MAINTENANCE AND SPARE PARTS SERVICE OF APPLIANCE REFRIGERATION EQUIPMENT
We receive and store all equipment for sale at our Jyväskylä office. We deliver the equipment to our customers only after careful and professional inspection work. This is how we ensure that the device ordered by the customer works as it should.
We always deliver the equipment properly packed and protected on pallets. This minimizes transport damage.
In cooperation with e.g. With Suomen Kaukokiito Oy, refrigeration equipment will be delivered within 1-2 working days of ordering or when the equipment arrives at our warehouse.
It is also possible to get all the refrigeration equipment we sell installed. Our own installers always install the equipment while listening to the customer with great professionalism and pride. We are also assisted by an extensive cooperation network. Be sure to ask for an offer from the installation service when ordering!
During the warranty period, we service the equipment with the professional skills brought by long and varied experience in Jyväskylä or elsewhere in Finland with the help of our extensive network in the refrigeration industry. And if the warranty period has already expired, we will help you find the right service for your device.
Our professional dealers will also guide you in choosing the right accessories and spare parts.
---
Contact Request – MAINTENANCE
Furniture receipt check:
condition inspection and, if necessary, repair of the transport packaging
condition inspection of furniture e.g. for transport damage
inspection of the functionality of the furniture e.g. With 24h temperature monitoring
manuals, etc. adding instructions and temperature reports as part of the delivery package
Did your refrigeration appliance break down?
We deliver new refrigeration equipment quickly from our stock selection.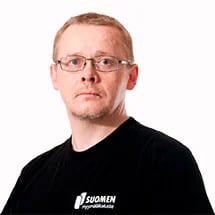 JOUNI HILTUNEN
Maintenance and refrigeration technology
Specialist in self-powered refrigeration equipment. Responsible for testing refrigeration equipment and temperature monitoring before delivery. Over the years, the technical knowledge of our range of refrigeration equipment has grown to the highest level.
ARI PASANEN
Maintenance and refrigeration technology
An icingly versatile expert in self-propelled refrigeration equipment. A professional serving spare parts and maintenance for our range of refrigeration equipment. Refrigeration specialist for pick-up boxes.
JANNE HOKKANEN
Electrotechnical expert
A service team with a service-minded and versatile problem-solving ability. An electrotechnical expert specializing in pick-up box technology. Wireless Temperature Monitoring System Expert.