STORE-
FURNITURE PROFESSIONAL
We are one of the leading suppliers of plug-in refrigeration equipment in Finland
PLUG-IN
REFRIGERATION PROFESSIONAL
We are one of the leading suppliers of plug-in refrigeration equipment in Finland
Our customer is number one

Suomen myymäläkaluste is a customer-oriented professional in its field. From us, you get comprehensive refrigeration, equipment and service solutions expertly, flexibly and risk-free.
We stock over 50 new refrigeration models from market-leading brands. With out comprehensive inventory, we are able to serve you quickly and flexibly.
We also provide professional help in store renovation projects.

Your reliable partner
Our modern premises of approximately 3,000 m², completed in Jyväskylä in 2011, enable the implementation of even large projects and a quick response to various parts of Finland. Occupational safety and cleanliness are state of the art.
We are a dynamic and strong family business, we listen to our employees and actively invest in their continuous development. The sense of doing things together is visible both within the company and in the customer interface. Suomen myymäläkaluste is a member of the Finnish Refrigeration Association and the company has an AAA credit rating for the seventh year in a row.
Welcome to the Showroom
We have built a comprehensive refrigeration showroom for our customers, featuring a wealth of new and energy-efficient refrigeration models. Here you can compare the features of refrigerated furniture with the guidance of a professional seller.
It is possible to carry out the customer's project planning in our showroom with the help of our salesperson. The present furniture and color options make it easier to choose refrigeration equipment to support your store or cafe plan. Carrier's energy-efficient refrigeration equipment, Aste Finland's domestic refrigeration equipment and ES System K's latest confectionery display models are on display.
The showroom is open
weekdays from 8 a.m. to 4 p.m.
at Yritystie 12, Jyväskylä
Welcome!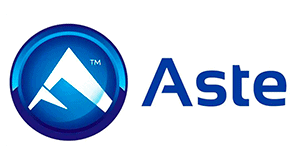 "Together with Suomen myymäläkaluste, we are able to serve end customers even faster and with higher quality, from the manufacture of products to recycling. Our cooperation has enabled smooth deliveries for small orders, a wider spare parts service and individual product customizations."
Jussi Salonen, President and CEO, ASTE FINLAND OY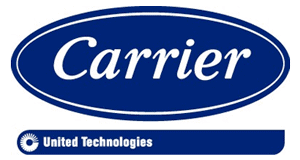 "Our partnership with Suomen myymäläkaluste is a result of over 10 years of strong cooperation. Suomen myymäläkaluste is a reliable partner as our official Export distributor for Carrier Plug-in devices in Finland."
Istvan Kuti, Sales Director Export, CARRIER COMMERCIAL REFRIGERATION

"I have a weakness for Scandinavian design. Often I choose brands of Northern Europe, because I appreciate them for quality, style and elegance. Understated design is also the domain of our refrigeration equipment. However, visiting the headquarters of Suomen myymäläkaluste and getting know to their owners I saw their longing for something warm. From that time, our relationship changed a lot, we complement each other. For this "raw" at the beginning meal, we added a little Polish soul and a pinch of the Tuscan sun. I think that it is today, the uniqueness of our projects."
Andrzej Konsor, CEO of ES SYSTEM K
RECOMMENDED BY OUR CUSTOMERS
"Suomen myymäläkaluste responds quickly to inquiries and individual device needs can often be found with a suitable solution in a quick schedule directly from the warehouse."
Mikko Kontio, K-Citymarket Hämeensaari, merchant

"Suomen myymäläkaluste is a customer-oriented and professional partner."
Hannu Liiri, Caffitella, entrepreneur
"Suomen myymäläkaluste is the most competitive and fastest player with excellent customer service."
Suvi Muurikainen, Palwaamo, store manager

"The service of Suomen myymäläkaluste is good as a whole and the products are reliable."
Harri Niskanen, K-Market Siivikkala, merchant

ENERGETIC TEAM AT YOUR SERVICE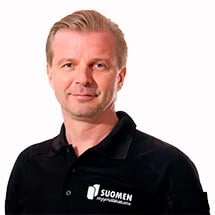 TEEMU LAHTINEN
CEO, sales
The leader of our orchestra, who finds equipment solutions according to the customer's needs. Specializes in designing new and transformation sites for stores as well as project sales with services.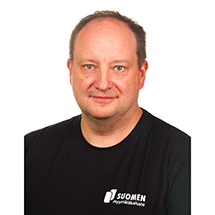 Consumer goods trade expert with experience also in the world of restaurants and catering. Responsible for the sales and development of our company, also participating in project planning. Pillar of corporate management.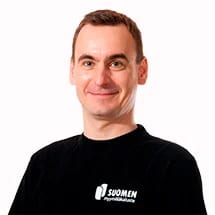 JUHA HELLMAN
Production Manager, Sales
An expert in our range of refrigeration equipment. Serves customer-oriented and finds suitable refrigeration equipment models for the customer. Responsible for the smoothness of our production.
JANNE HOKKANEN
Maintenance and project Manager

Holds the reins in managing and coordinating maintenance and projects. Service-oriented problem solver, wireless temperature monitoring system expert.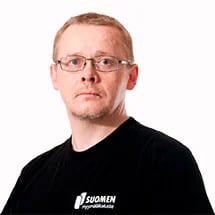 JOUNI HILTUNEN
Maintenance and refrigeration technology
Specialist in plug-in refrigeration equipment. Responsible for testing refrigeration equipment and temperature monitoring before delivery. Over the years, the technical knowledge of our range of refrigeration equipment has grown to the highest level.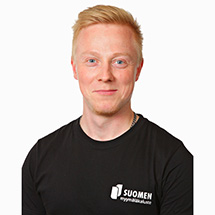 As a special area of responsibility, our company's logistics-related matters, both for incoming and outgoing goods. Keeps the products in our warehouse with their balance information in a neat order with a happy attitude.
LEO HELLMAN
Electrical technician for refrigeration equipment

Electrical specialist of the maintenance team. His task is mainly equipment maintenance and electrical and equipment installations. You can also see Leo at our project sites at installation gigs around Finland.
ROSA PLYM
Refrigeration technician for refrigeration equipment

A positive and energetic member of the maintenance team who solves the problems that come up on her own initiative and resourcefulness. The main task is equipment maintenance with special responsibility for refrigeration technology.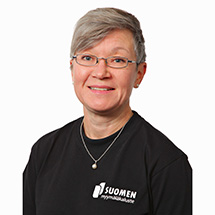 NINA PAKKANEN
Customer service and back office functions
A multi-skilled clerical expert who has a finger in sales, marketing and financial management. Finds out answers to customer questions and assists business management.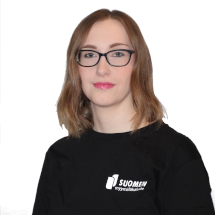 SOFIA LAHTINEN
Marketing Assistant
Versatile communication and marketing tasks on the desktop. Takes care of the implementation and development of the company's marketing communications together with the company's management and assists in the day-to-day running of the office.